T
he mission of KOPA is to improve communications between the public and the outdoor industry, while improving the professional skills of our members, promoting the highest ethical standards and encouraging public enjoyment, conservation, and use of our natural resources.
A brief history of the KOPA
The Kentucky Outdoor Press Association (KOPA) was formed in the early 1940s by a small group of outdoor enthusiasts, some who wrote for various titles (mainly newspapers) inside and outside Kentucky. Three of the notable members of KOPA during its early period were Earl Ruby, sports editor and later outdoor editor of the "Louisville Courier-Journal", Bob Rankin, outdoor editor for the "Cincinnati Enquirer", and Virgil Prior, outdoor writer for the "Lexington Herald-Leader". Other members included state employees that were associated with travel and tourism. KOPA records do not indicate any fish and wildlife agency employees were members.


Interest in KOPA leadership waned during the 1950s, but in the early 1980s, Bob Rankin, Virgil Prior and Soc Clay agreed to re-organize KOPA. Early meetings were held at Lake Cumberland, Kentucky Lake, Lexington, and Cave Run. Tourism interest was running high in Kentucky, with the completion of 15 state resort parks, the first of their kind in the nation. Stories about outdoor activities in Kentucky were in demand from major outdoor titles such as "Outdoor Life", "Field & Stream" and "Sports Afield" magazines. Ruby, Prior, and Rankin were filing outdoor stories for the Sunday pages of their respective newspapers including topics detailing the great fishing occurring at Cumberland and the two large lakes- Kentucky Lake and Lake Barkley- in the state's western end.

In 1964, Clay began his outdoor communications career with outdoor columns appearing in the "Portsmouth (OH) Times" (this was the first ever outdoor coverage in that newspaper) and the "Greenup News". He quickly moved to market his outdoor page to all the papers belonging to Kentucky Publishing Company. Eventually he moved to the magazine market where he continues to write stories about Kentucky to many major outdoor titles across America.

During the KOPA re-organization, the three major writers Rankin, Prior and Clay (Earl Ruby had retired by this time), were instrumental in bringing in most of the outdoor media across Kentucky. Steve Vantreese from Paducah, G. Sam Piatt from Ashland, Gary Garth from Louisville, Art Landers from Lexington and other communicators from Ohio, Tennessee and Midwestern states join the organization.

In recent years, KOPA has attracted younger members of the outdoor media, including Tom Clay, a syndicated outdoor radio host and outdoor anchor for WSAZ TV in Huntington, WV. Chris Erwin, an internet whiz came on board. Chris is author and publisher of Kentucky Angling.Com, an accomplished angler/photographer.
The mountains produced two members, Fred Hall, an outdoor columnist for various publications in Eastern Kentucky and Kenny Joe Mitchell, a fantastic outdoor photographer.

A major edition to the organization occurred when Etta Pettijohn, a veteran magazine editor, writer and photographer from Tennessee, came on board. She and her husband,Wayne, have whipped KOPA's finances into shape and are working on various projects to fine-tune the organization.

KOPA's annual auctions, draw the support of many major outdoor product manufacturers in America, has added funding and fun to annual meetings.

Today, KOPA is one of the tightest professional outdoor media groups in America. Small, but totally professional, KOPA faces the future with the same confidence and determinations as the earliest members did so many years ago.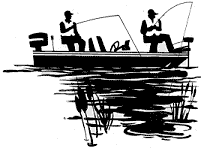 Website design by Chris "Trimmer" Erwin © 2007